You never know where an opportunity will lead. With one small step, Emmanuel, a wildlife ranger in Kenya and Tala customer since 2015, went from struggling to make 50 cents per day to landing his dream job, moving into a new home, and sending his son to school, and all in a few years.

In 2017, Emmanuel was supporting himself by offering rides on a motorbike, or Boda Boda, in Kabarnet Yet, the informal taxi business in Kenya was growing rapidly, and as more and more drivers hit the streets, supply soon exceeded demand in his village. Competition became fierce and Emmanuel struggled to find customers.

Moreover, Emmanuel didn't own his motorbike, instead renting it by the day. "I could hardly manage. Sometimes I would end up with only 50 shillings (around 50 cents USD) at the end of the day after paying out 500 shillings," he remembered.

He planned to move to Nairobi to turn things around.

"My wife was pregnant and I had to live a life," he explains. "I asked for a security job in Nairobi, but it was a very difficult situation because I had a month to work before getting paid. I needed a house and money to commute. I asked my parents and my friends but nobody could help me. I needed at least 10,000 shillings. But I had Tala. I borrowed 12,000 shillings ($115) and secured a house and I had some change to commute to work. When I got the salary, I repaid. This opened many doors."

Emmanuel's security job placed him in a radio room, where he discovered his passion for radio. After working for a little over a year, he used the experience to land a job as a radio controller at a wildlife conservatory in Nanyuki with a better salary and work he found more interesting.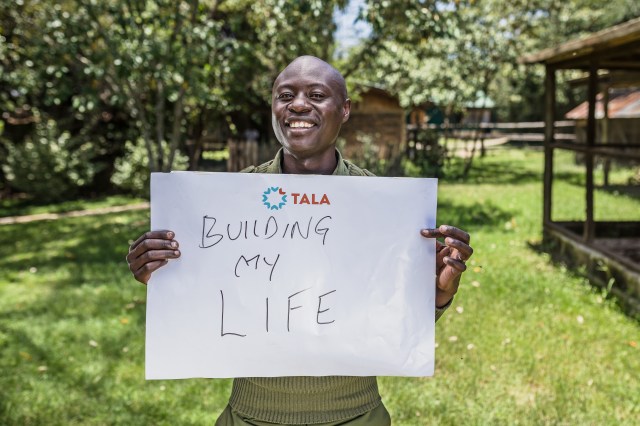 Emmanuel attributes his success to taking advantage of a series of small opportunities, starting with his move to Nairobi. And for the millions of people like Emmanuel, having a trusted financial partner can help make leveraging those opportunities a little easier.

"Tala has been the best thing that I have ever had. It was Tala who gave me that first chance, that first trust, that first step. And now I'm here. I've brought my family to Nairobi. We have a really nice house and my kid is going to school. Everything is rolling out positively, thanks to Tala."