Tala's Back-to-School Report Highlights the Growing Demand for Education Financing Amidst Rising Costs
Education-related loans surge nearly 50% during the back-to-school season — underscoring the heightened priority given to tuition-related expenses.
Santa Monica, CA, October 4, 2023 – Tala, the world's leading money app for the underbanked, released its Back-To-School Report today, shedding light on the financial dynamics of education expenses in emerging markets. As families gear up for the new school year, Tala's report highlights the increasing focus on education spending and the subsequent surge in demand for financial solutions across Kenya, Mexico and the Philippines.
Key Report Findings:
Sharp Increase in Education-Related Loans:
Tala's anonymized, self-reported data from loan applications spanning several years reveals a nearly 50% increase in loans for education purposes during the back-to-school months compared to the rest of the year.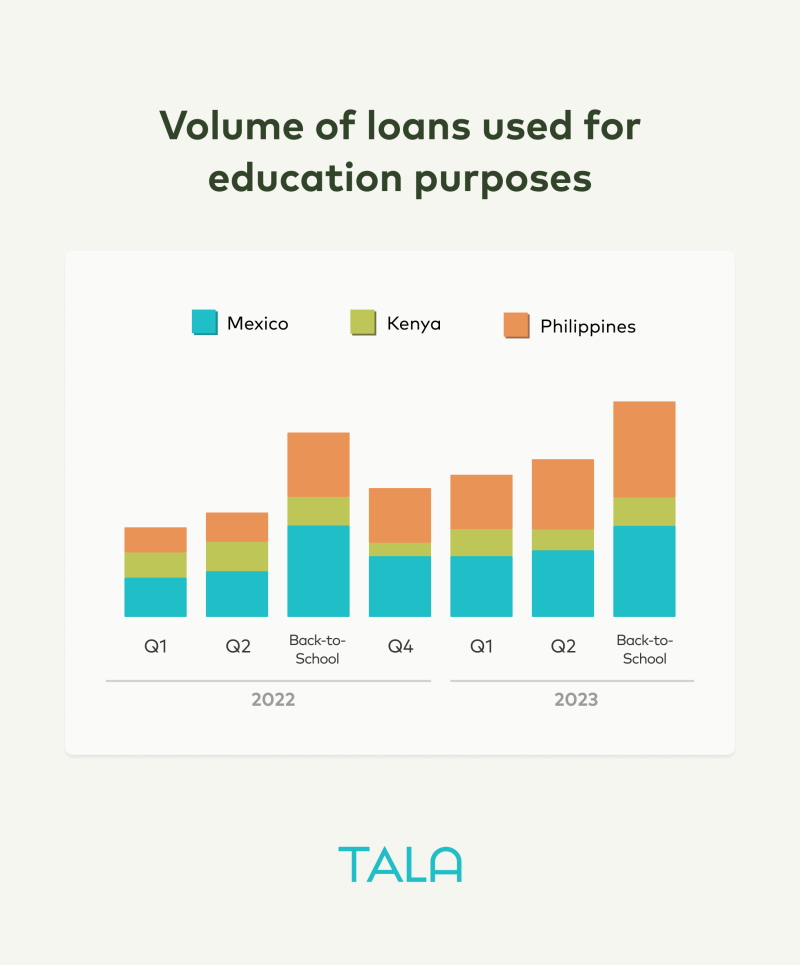 Education Loans Are Significant:
Approximately 15% of all loans are directed to education expenses in August and September across all markets. This indicates the crucial role that loans play in ensuring students have tuition, supplies and resources for their education.
Market-Specific Trends:
The report shows market-specific variations reflecting different market needs:
In Mexico, loans for school expenses double during back-to-school months, with education-related loans accounting for about 24% of all loans.
In the Philippines, there is approximately a 50% increase in education loans during back-to-school months compared to the rest of the year.
And in Kenya, education expenses remain consistent year-round, with slight surges in August, September, and January.
Financial Focus and Gender Dynamics:
Back-to-school expenses represent a significant portion of family incomes and are primarily initiated by women — demonstrating the heightened focus on prioritizing education. Yet there are variances by market:
In Mexico, the average back-to-school loan size is over one-third of the average monthly income with nearly 50% of all education loans originated by women.
In the Philippines, the average back-to-school loan size is one-quarter of the average monthly income with 70% taken by women.
And in Kenya, it's over one-third of the average monthly income, with nearly 50% initiated by women.
Championing Financial Solutions for Education Costs
The Back-To-School Report underscores the pressing need for accessible financial solutions to support families grappling with rising education costs.
Tala is bridging this financial gap by offering its 8+ million global customers instant access to financial services to help them achieve their education and career goals. Tala maintains a highly loyal customer base which turns to the platform for capital to support their families, grow their small businesses and manage their daily financial needs. Tala maintains a 95% customer repeat rate and repayment rate of above 90%.
"Education is clearly a global priority. In Tala's markets, even with local government's efforts at providing affordable education, the reality is that education-related expenses are on the rise, and hence additional expenses are inevitable," said Kunal Kaul, Chief Risk and Strategy Officer at Tala. "Tala is dedicated to helping individuals manage rising education costs, spanning from school supplies to tuition, with the ultimate goal of enabling more access and building a more equitable future for all."
Methodology
The Back-To-School Report is based on an analysis of anonymized Tala loan application data from 2019 to 2023. The data provides valuable insights into the capital requirements for back-to-school expenses and the impact of rising education costs on customers in Tala's markets. Loan purposes, such as school and education, are self-reported by customers.
About Tala
Tala is the world's leading money app for the underbanked. Available in three continents, Tala's wealth-building platform offers its 8+ million customers instant access to bill pay, credit and remittance services, processing nearly $200 million in transactions each month.
Tala has raised equity and debt funding from visionary investors, including Kindred, Stellar Enterprise Fund, IVP, Revolution Growth, Lowercase Capital and PayPal Ventures. Tala has been named to Fortune's Impact 20, CNBC's Disruptor 50 list four years in a row, and Forbes' Fintech 50 list for seven consecutive years.
Media Contact: press@tala.co