Anay Shah is the VP of Country Growth at Tala. Based in Nairobi, Kenya, Anay is responsible for growth across all of Tala's markets by driving marketing strategies and Tala's global partnership vision. He comes to Tala from Remitly, the largest independent digital remittance company in the United States, where he joined as its 9th employee and helped the company grow to over 400 people serving customers sending over $4 Billion annually.
With Tala's recent $65 million Series C, we're invested in growing our teams around the world (we're hiring!) and reaching more of the 3 billion people who are financially underserved. We sat down with Anay to discuss what brought him to Nairobi, why now is an exciting time for Tala, and what he's looking for in a new hire.
Q: Where did you grow up? What led you to Nairobi?
A: I was born and raised outside of Washington, D.C. in Maryland. My parents are from India and immigrated here in the 1970s. A sense of home was important to them, so we returned to Mumbai every couple of years. Visiting this colorful, vibrant, and complex country gave me early exposure to what life was like for a billion other people on the planet. After studying political science in college, I knew I wanted to combine my international interests with some degree of social impact, so I joined an international development consulting firm, and was lucky enough to spend the next four years working across fifteen different countries. I became enamored by this concept of a "for profit social enterprise" and moved to India to join d.light, a leading solar power start-up in emerging markets.
After business school, I moved to Seattle to join Remitly, which is now the largest independent digital remittance company in the United States. I was there for a little over four years and had the good fortune of helping build a high growth startup, initially doing product management, later leading Global Business Development & International Expansion and finally running Remitly's largest business line.
Most importantly, during my four years in Seattle, I met and married my wife, Sheeba. With our mutual love of life in emerging markets, we decided to pack our bags and leave the US. We went through a six month process to discover what we wanted out of our next life chapter, evaluating economies that would support both of us, cultures we were interested in, networks we had established, and countries we felt would be really great to live in. While neither of us had ever lived in Africa, we said 'let's roll the dice and do it,' and bought one-way tickets to Nairobi!
Q: How did you get to Tala?
A: It feels like a wonderful combination of luck and fate. I arrived in Nairobi fairly open minded. I found myself talking to dozens of investors and entrepreneurs, and as I learned more and more about Tala, it became clear to me that this is an incredible business with a massive vision. I have always been attracted to companies with audacious goals, and Tala truly has the potential to disrupt financial markets around the world.
After speaking with Shivani, Tala's Founder & CEO, it became clear that the fit was almost too good to be true. With a strong sense of mission, a visionary founder, an exceptionally smart team, and an amazing culture, working for Tala felt like another rare opportunity to help build a successful fintech company that has the potential to transform markets.
Q: How long have you been in Nairobi? What's your favorite part about the city?
A: My wife and I landed in Nairobi with our five suitcases on New Year's Eve 2017, and the city quickly welcomed us with open arms. What attracts us to Nairobi is how dynamic the city is — a cosmopolitan hub full of ideas, a thriving arts scene, and a super friendly population always working on their "side hustle." Nairobi is an innovation hub for Africa and a fintech hub for the planet. Tech-related services in Nairobi grew over 20x to the $300 million industry it is today in just a decade. It's also an incredibly livable city for expats because the weather is phenomenal and the people are extremely welcoming and friendly.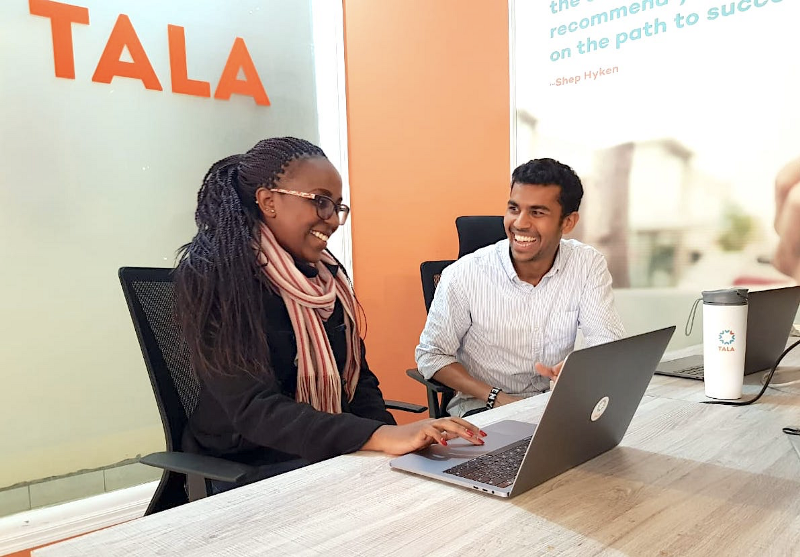 Q: How has your experience building Remitly affected the way you approach your role as VP of Country Growth at Tala?
A: It's been incredibly instructive to reflect back on my Remitly experience. Remitly operated in the Philippines, Mexico, and India, three of Tala's markets, so I was fairly familiar with the payments infrastructure, customer base, and fintech landscape in these countries when I joined Tala. On the operational side, Remitly is an extremely well-run organization that has a very clear and effective strategic framework, which has informed where I believe we want to go at Tala.
In terms of running country growth for Tala, I learned a lot about what true performance marketing means, and how to build a metrics driven culture where we're making decisions that are both right for the customers and right for the business. At Remitly, and now Tala, we always connect the product that we're building and the customer that we're serving.
Q: What is the growth team currently working on?
A: The growth team is focused on expanding the reach of our product and services to billions more people in all of our markets. Whether it's a Kenyan "mama mboga" food stall owner who needs capital to buy more fruits and vegetables to sell, or a Filipino worker who needs a bridge loan to make it to the end of the month, we want to be there for our customers. We have especially ambitious growth goals for 2018 and 2019, which will require us to make hard tradeoffs and execute exceptionally well. We also want to expand our credit offering, optimize our performance marketing engine and drive down unit costs so we can continue to be as accessible to customers as possible.
Q: Tala is looking for a Country Growth Manager to lead the business in East Africa and expand Tala's product to millions more people. What most excites you about this role?
A: What excites me most about this role is that it will help drive an incredible brand in our largest market and in one of the most dynamic fintech markets in the world. We have a lot of fantastic ideas on how to expand our credit offering and services, and we need an outstanding, entrepreneurial, data driven leader to build the the strategy, roll up their sleeves, and execute on a growth plan for many years to come. We've only scratched the surface and there is so much room to expand.
Q: Describe the ideal candidate to join your team. What qualities are you most looking for in this role?
A: One of the things that has made Tala so successful is hiring people who are very empathetic to our customers, have high intellectual horsepower, and, importantly, are team players. We want someone who is a seasoned entrepreneurial leader and hungry to provide financial access, choice, and control to financially underserved people across the world.
Q: Why is it an exciting time for people come to work at Tala?
A: It's an incredibly exciting time to join Tala because we are so well positioned to expand financial access to billions more people in path-breaking ways. Tala was the first to offer unsecured loans via smartphone in Kenya. When we launched, it was absolute magic — something that had never been done before! Over the last four years, Tala has built a brand around being visionary, being a market leader in the most dynamic markets in East Africa, and building deep trust with our customers.Now, with growth scaling 130% quarter-over-quarter, and over 50 positions to fill worldwide, the possibilities at Tala seem endless.
Want to build with @AnayShah and #TeamTala? We're hiring! We are growth hackers, engineers, data scientists, customer experience designers, marketers, and finance geeks all passionate about extending financial freedom to the billions of underserved people across the globe. We believe in people from every type of background — around the world, and within our company. We call this #RadicalTrust. Come join our global team at tala.co/careers